How to upload website

This guide gives you a short overview on how to upload your website to your hostbay hosting server.
REQUIREMENTS:
You will need following to upload your website

FTP Address
Username
Password
FTP Software
STEP 1: You need to have a FTP Address, Username & Password for your website. For that you will need a web hosting and domain name. Please click here to buy one for your website. After you select your hosting and domain name, we will send you an email with your username, password and FTP address.
STEP 2: To connect to our hosting server you will need a FTP software. There are many software available in the market for this purpose. If you are looking for a free one, you can download FileZilla by clicking here. Instruction on how to use FileZilla can be found here. Alternatively you can also use Your Windows Operating System to publish your website.
STEP 3: To use Windows for uploading your website, Open Windows Explorer by double clicking on My Computer Icon on Desktop. Now in the address bar type your FTP address that we have sent to your email address. Your FTP Address could be something like ftp://ftp.nameofyoursite.co.uk

STEP 4: Your windows will ask for Username and Password or incase, if its not asking for then Click on File Menu and Select Login. In the Log in box enter your FTP Username and FTP Password that we have sent to your email address.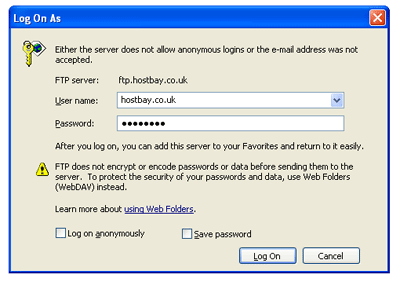 STEP 5: You will now see a folder "public_html". Copy all your website files from your computer to this public_html folder. Thats it! Now you can go to internet explorer and type your website address and your website will be there. Simple, Isn't It.
| | |
| --- | --- |
| | INCLUDED FREE! |

| | |
| --- | --- |
| | CGI PHP ASP |

HostBay gives constant script support to all hosting accounts. CGI/PHP Scripts make your website come alive with interactive features for your visitors to use. Some of the benefits include Form to Email, Photo Gallery , Website Search , Guestbook , Web Postcards , Web Auction , Domain Name Checker , Banner Advert Manager , Web Calendar , Random Images Displayer , Tell-A-Friend , Joomla CMS, Mambo CMS, phpBB & a lot more..

| | |
| --- | --- |
| | MYSQL DATABASE |

HostBay's MySQL a true multi-user, multi-threaded SQL (Structured Query Language) database server. SQL is the most popular database language in the world. MySQL is a client/server implementation that consists of a server daemon (mysqld) and many different client programs and libraries. You can manage your database by using phpMyAdmin, an easy to use web based interface for managing MySQL databases.


| | |
| --- | --- |
| | WEB TOOLS |

HostBay provides an extensive range of different web tools such as Scheduled Tasks, Microsoft FrontPage Extensions, Website Password Protection, MySQL Database , Change Your Password, Back Up or Restore Your Website, Sub Domains, SSH Server Access, Site Submission, IP Address Blocking and Website Directory Auto-Indexing.